This October marks one year since Ashley Chesnut launched Down in the Ham's website, Facebook, and Instagram account. Although she didn't have a product until eight months after the online launch, she knew it would take time to cultivate a following leading up to the release of her children's book about Birmingham. Ashley shared with us what she has learned about Instagram marketing in her first year of business.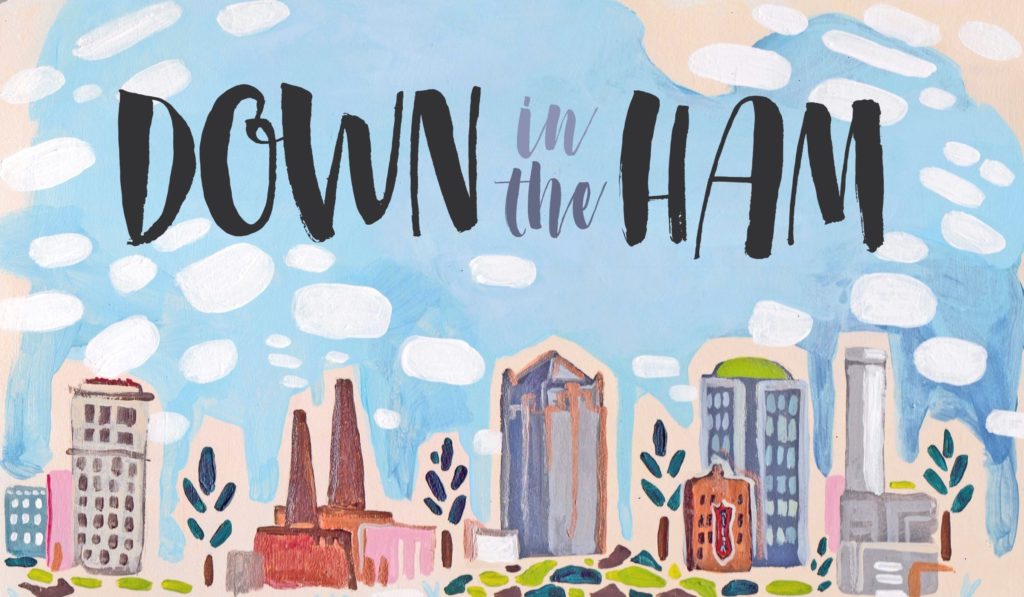 However, I was not a marketing or business major in school, and while I had a personal Instagram account, I only posted on it a handful of times a year. Needless to say, I've had a lot to learn – and am still learning, especially since trends and social media platforms (and their algorithms) quickly change.
Here's ten things I have learned in year one:
Know your purpose. Why are you getting on Instagram? What will you post about? Put this in your profile bio, so people know what you're about. @happeninsintheham does this well. They're "curators of fun, cheap, and FREE events in Birmingham," and the content they post matches their purpose.
Identify your look. Solidifying a look helps you create a brand that is recognizable to your followers. Knowing your purpose will inform your look, but there's more to consider here. Will your Insta have a color scheme? For example, check out how @laurenmary.co plays off the bright colors of her blankets or how @fullpantry uses white or neutral backgrounds in most of her pics. Another example would be @objectivetyrach whose use of editing and color is so distinguishable that one can recognize her pics on sight. For Down in the Ham, this means that I play off the colors in our book, prefer bright and warm pictures, and, if I use a filter, it's probably going to be one of a handful that I've preselected as my go-to's.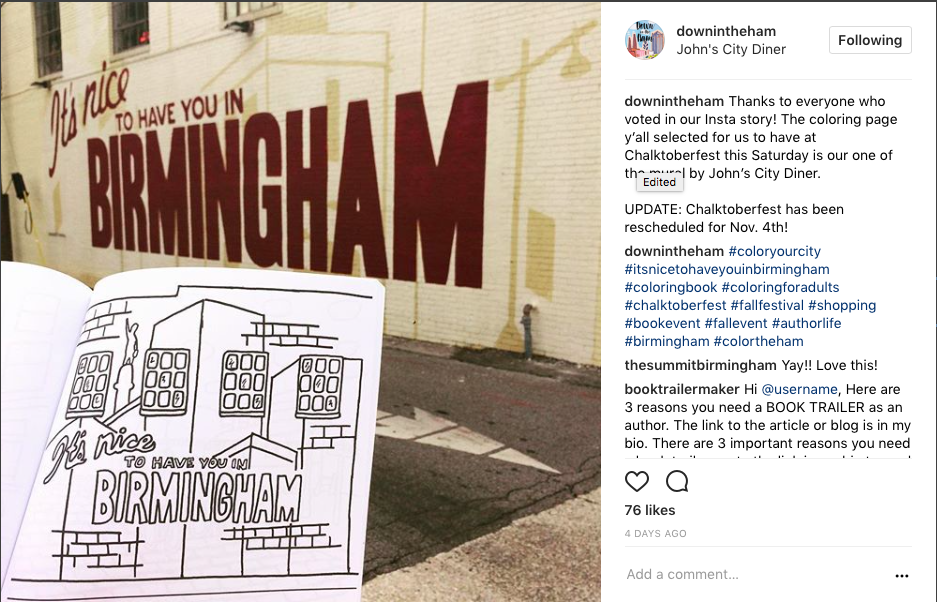 Story what doesn't match your look. If there's something relevant to my followers but doesn't match my look, I add it to my Instagram story. Instagram stories give followers behind the scenes glimpses of real life for you and/or your business. So the day my first shipment of books came in the mail, I got on Instagram story to document the moment and my excitement about it before I even unlocked my front door. If you tend to do more video than pictures in Instagram stories, consider paying for an app called Storeo for Instagram that films you in one sitting but cuts your video into seamless Insta story clips.
Search for ideas. Save what you like. I can't tell you how many times I've pinned ideas on Pinterest or saved Instagram posts. During those times when I'm needing content, I go back to those ideas, study what I liked about them and work off of them to create new content.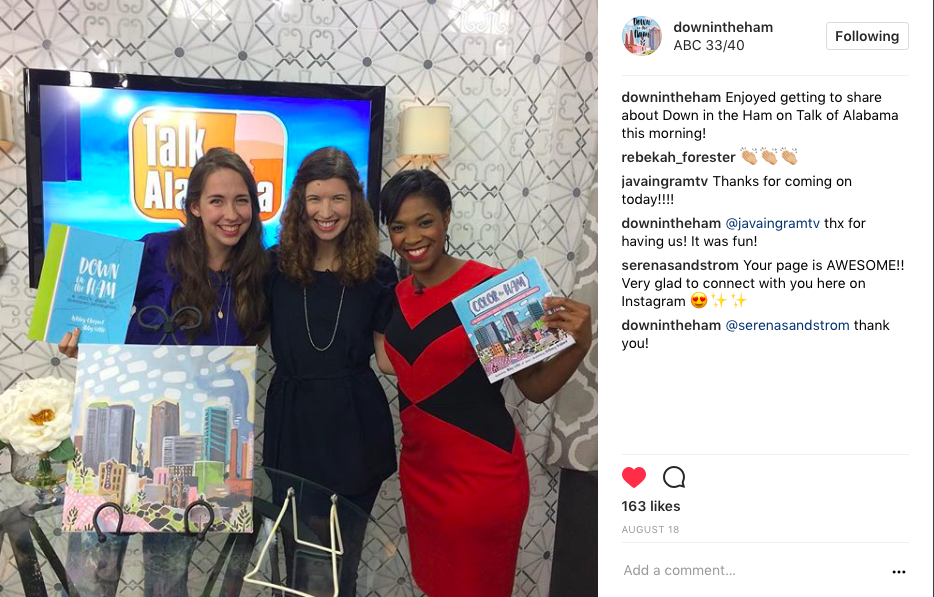 Pay attention to what your followers like. For Down in the Ham, the posts with the most likes and comments are the ones where Abby (Down in the Ham's illustrator) and I are in the picture because our followers prefer personal over impersonal pictures. To be honest, this is harder for me because I'd rather be behind the camera instead of in front of it, but I can't ignore that pics with people get more responses from our followers than anything else we post.
Work on your photography skills. Since I am not a professional photographer, I have searched on Google and Pinterest everything from basic photography tips to how to do a flat lay. My motto – If I don't know how to do it, I can Google, YouTube, or Pinterest it to learn. I also suggest carving out time for a photo shoot a couple of times a year, even if it's just a mini photo shoot. For example, I took about 1 ½ hour this month to snap photos of our books with pumpkins, cotton, and leaves that I could use during the fall. Here's one example of those pics:
Post your hashtags in the comments section. Unless it just adds to your caption, put your hashtags in the comments, so your followers don't feel #spammed. Also, it looks more pleasing aesthetically to have a clean and clear caption.
Utilize Instagram's Insights. Insights allows me to see the days of the week my followers are most active and the average times they are on Instagram in a typical day. This is how I have identified my target days/times for posting. So take advantage of this data they're collecting on your followers and plan accordingly.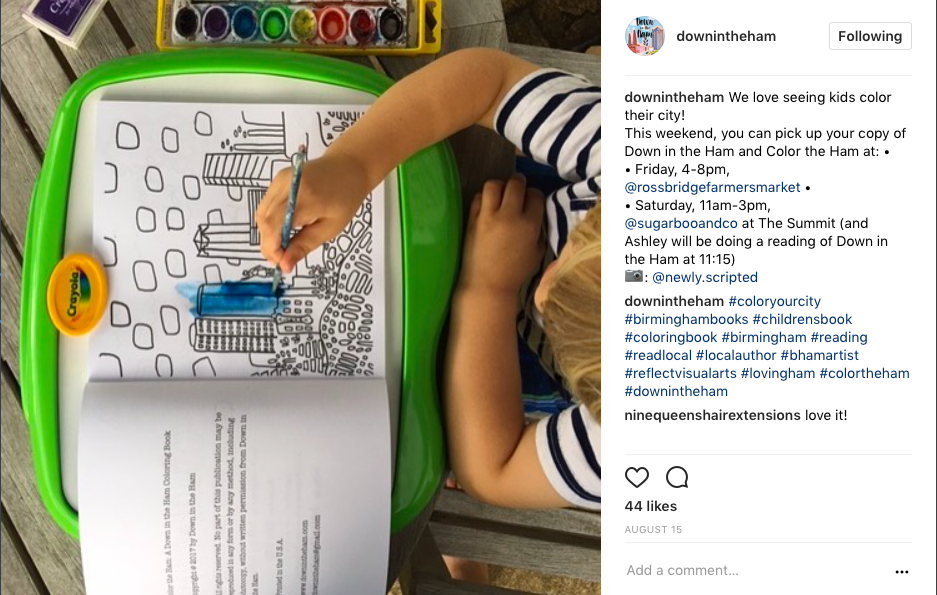 Sponsor posts. Know your purpose for sponsoring a post. Is it to increase your reach? Is it to let people know about a product or event? If so, determine your budget, and go for it (and if you have questions about how to sponsor a post, you can Google that too).
Be a learner. Read up on the trends and changes because things will constantly be changing. Even this month, I had questions about the new polling option on Instagram Stories, so I quickly read up on it then gave it a whirl.
Essentially, how are you using Instagram to serve your followers?
Pay attention to how they receive and respond to your content. Keep in mind that, while photos capture people's attention, what are you using the photo to do? How are you using them to engage your audience and communicate your purpose?
Ashley Chesnut serves as the Associate Singles 20s/30s Minister at The Church at Brook Hills and has a Master of Divinity from Beeson Divinity School. Ashley also loves her city and has authored a child's guide to Birmingham called Down in the Ham, which was released in 2017. When she's not mentoring younger girls or doing homework (she's back in school working on a counseling certification), you can probably find her at the farmer's market or trying some new local restaurant.