On October 10 Debra Nelson will be leading a Lunch & Learn at Forge. She is focusing on intentional strategies to keep unconscious bias out of your business. This event is FREE and open to the public! Grab your lunch from the Pizitz food hall then join us at Forge!
Debra Nelson is recognized among the nation's leading diversity and inclusion practitioners and public relations experts. Her professional career includes executive positions at industries spanning media, higher education, automotive manufacturing, construction, and gaming and hospitality. Today she leads Elevate, a firm dedicated to delivering professional development and communication services.
Your Big Idea is an opportunity to come hear and support the new business ideas being born every day in Birmingham, Alabama! We are now accepting applications if you want to present your big idea in November! It is an opportunity for our presenters to pitch their business idea to a live audience, receive meaningful feed back from an expert panel and connect with others who could help them on their business venture. Our presenters will be Catherine Gregory and Delphine Carter of Boulo Solutions, Allison Litton of Meals OnCol and Bonnie and Diego Faulkner of Table2Farm.
This event is hosted by Forge in the Pizitz building. Happy hour with drinks and hors d'oeuvres from 4:30-5:00, presenters from 5:00 – 6:00.
Josh Andrews of Gatehouse Law is back to teach us more about dealing with legal issues in our small businesses. He will focus on dealing with conflict and using contracts to help resolve disputes. RSVP to receive free lunch! This event is free and open to the public.
Gatehouse Law helps small business owners and entrepreneurs develop a clear legal plan to protect their business as it grows with an education first approach to legal advice and service. They lower the barrier of entry to working with legal.
Interested in seeing what coworking is all about? Come work from Forge for the day on Friday, October 26! Use our super fast wifi and drink as much Domestique coffee as you like! Anytime from 8am to 5pm.
Forge is hosting a Founders Friday event with Tommy Mayfield of Wyndy. Tommy and his wife Ginger founded Wyndy- an app that connects parents with trustworthy college students who babysit. Come hear how Tommy and Ginger started the company and how its grown and expanded to other cities. Wyndy is a platform that uniquely combines trust and technology, enabling parents to quickly and easily connect with background-checked, full-time college students in a way that benefits everyone.
This event is free and open to the public! Forge will be providing breakfast.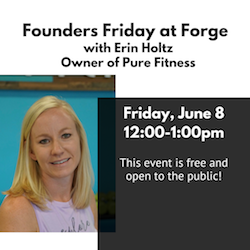 June 8, 2018
12:00-1:00 pm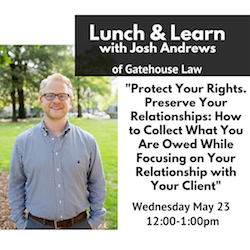 May 23, 2018
12:00-1:00pm