Your Big Idea is an opportunity to come hear and support the new business ideas being born every day in Birmingham, Alabama! It is an opportunity for our presenters to pitch their business idea to a live audience, receive meaningful feed back from an expert panel and connect with others who could help them on their business venture.
This event is hosted by Forge in the Pizitz building. Happy hour with drinks and hors d'oeuvres from 4:30-5:00, presenters from 5:00 – 6:00.
Presenter #1: Tiffany Martin of Ignite Cycle. Ignite Cycle is Birmingham's only boutique indoor cycling studio!
Presenter #2: Trey Noland of Trek Environment & Conservation
Presenter #3: Jared Sluss of Housing Connectors
Are you interested in experiencing coworking? At Forge we offer a Free Friday every month. Come join us! Enjoy free unlimited coffee and super fast wifi.
Enter Forge through the Residence Lobby doors on 19th St. N. If a security guard isn't available, feel free to call us at 205-870-7558 to let you in. Walk up the stairs on your left to the second floor!
We know we need data in order to get better. So we craft surveys and program evaluations and give them to our customers. We get them back, share the results at a team meeting and return to business as usual. For this lunch and learn we'll talk about a better way to use customer input to improve your business. This event is FREE and open to the public! Grab your lunch from the food hall and join us at Forge!
Since 2010, Autumn Sanders Foster has worked with Fortune 500 companies, start-ups and non-profits, helping them grow their businesses by understanding their customers. She launched Quire in 2017 to bring ethnographic research and design thinking to organizational leaders that are looking for a way forward but don't know how to get there. She leads clients through experiences with end users to develop effective, scalable solutions to the challenges they face. She has worked with companies across a range of industries including education, arts, health care, retail, human resources, CPG, consumer electronics, and food.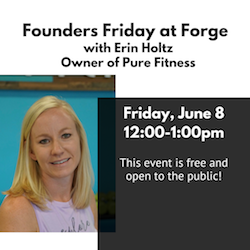 June 8, 2018
12:00-1:00 pm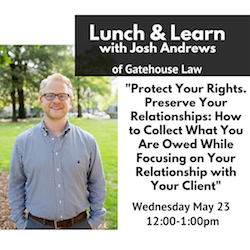 May 23, 2018
12:00-1:00pm