Join us Wednesday January 10 from 12:00-1:00! Trey Fulmer is the Founder and CEO of LUCA Financial Operations and he'll be sharing about Solving Your Accounting Problems in 2018. The accounting space is rapidly evolving, and your business should be staying in the loop and reaping its benefits. We will discuss small business tips and traps, cloud-based accounting, and what the new tax bill could mean for you. Trey Fulmer is the founder of LUCA, a financial operations team that serves growing businesses with a modern accounting back office. Must RSVP to attend! Email info@workatforge.com
Join us Wednesday January 24 from 12:00-1:00. Listen to Jackie Whitehead teach us "How to Win to Play" in the world of financial literacy. In order to win at anything in life, you have to have a game plan, but in order to understand the plan you have to know the rules of the game. Many of us were not taught the fundamentals of handling money, but we have to play because we have to take care of ourselves and our families. I'm here to teach you the fundamentals to win, not just play the game.
Join us on February 15 from 7:30-9:00am. Breakfast will be served from 7:30-7:45 and then we will hear from Josh Rhodes and allow time for Q&A as well. We'll learn "How To Go From Entrepreneur to CEO: Building a Business that is Right for You and Your People."
January 16 at 1:00pm we will be live streaming this webinar at Forge or you can register on your own to watch from home! 2018 comes with many opportunities for your business but still holds as many working hours as last year. This live webinar training will divulge how to most effectively wield your time to produce results within your business using technology and best practices for you and your team. This event is open to the public.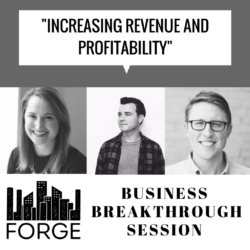 December 7, 2017
7:30 am – 9:00 am