Do you love podcasts? Have you ever thought about starting one? If so, we've got valuable insight from Knox McCoy and Jamie Golden of The Popcast. They have over 1800 five star reviews on iTunes podcasts- so we can trust what they say. The Popcast is a weekly pop culture podcast and if you've never listened to it, you can download it here.
Here are some things to think about before you record….
What's Your Goal?
Build an audience. A sticky one.
Build a personal connection to your existing audience.
Create valuable and reusable content.
Develop your speaking skills.
Make money!
Do everything in your power to figure out who is your listener avatar. And when looking for hosting software, Knox and Jamie suggest Libsyn and PodBean. The most important thing is making 100% sure you own your content!
What is your show's format?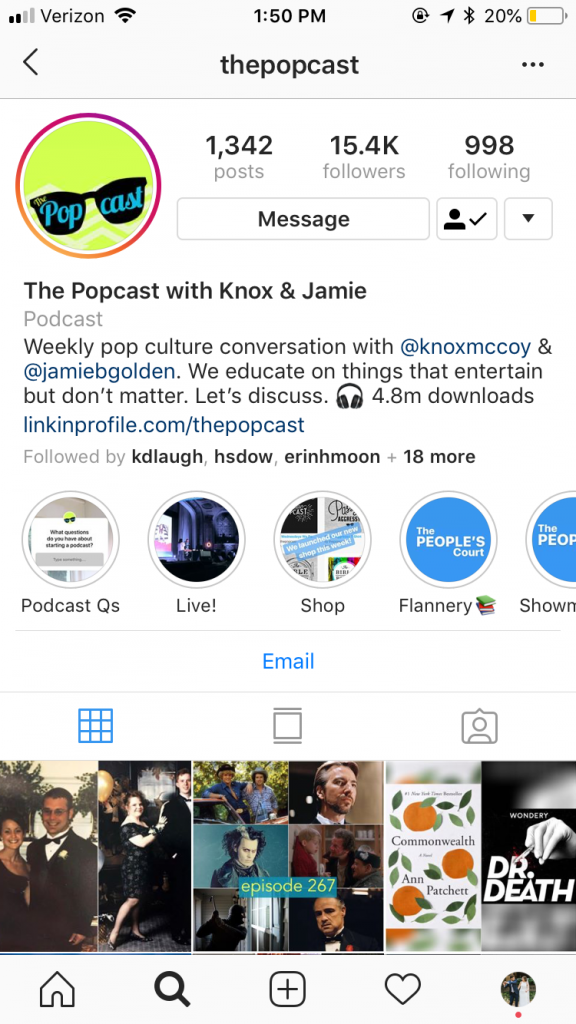 When producing content, let your mission/vision inform your content. Knox and Jamie believe that the three components of an excellent podcast are repetition, an early call-to-action and crazy valuable content.
Of course podcasting software is important- The Popcast uses Garage Band but they also suggest Audacity as a great option. Knox and Jamie both record from "studios" in their own homes- Jamie uses a large closet so there's no need to be fancy. Just make sure you limit your hard surfaces using blankets and curtains.
Knox and Jamie never record together in person- they are always in their own homes so they use Call Recorder for Skype to record their dialogue! Look it up if you plan to podcast with another person in separate locations.
Editing is very important- will you subcontract it or learn to edit yourself? Knox is the editor of The Popcast and he admits its not easy. It can take him several hours to edit one episode. They provided a couple of screenshots of their editing software to show a before and after.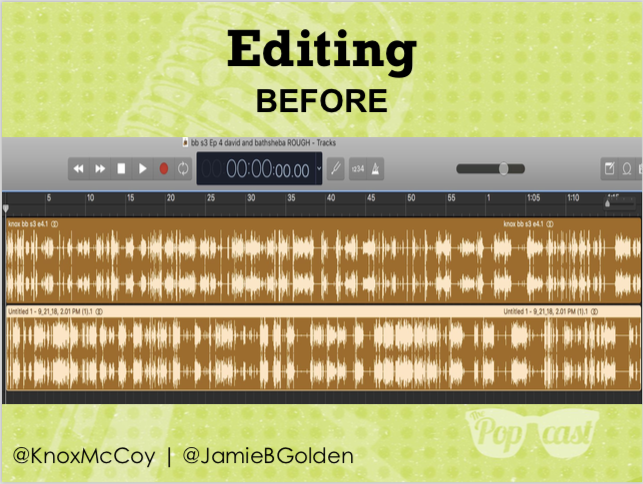 Think about what you want the length of your show to be and stick with it! Knox and Jamie feel like 20-30 minutes is the sweet spot for most audiences.
45-60 Minutes: The Popcast
One of the last steps is to get feedback- not just from your family and friends. Send it off to other podcasters to get their opinion!
Now you're ready to give it to the world! Upload it to iTunes, Spotify and Google Play.

But you might be asking yourself, how do I find listeners?
Be sure you've made something good.
Experiment with social media.
Ask your listeners to share.
Track the analytics.
Listener surveys!
Network with other podcasters (conferences are good opportunities!)
Be ready to spend some money.
HUGE thanks to Knox and Jamie for sharing all of their wisdom and secrets with us! Be sure to check out The Popcast if you haven't already!